ZAPORIZHZHIA CHILDREN'S THEATER "SVIIA"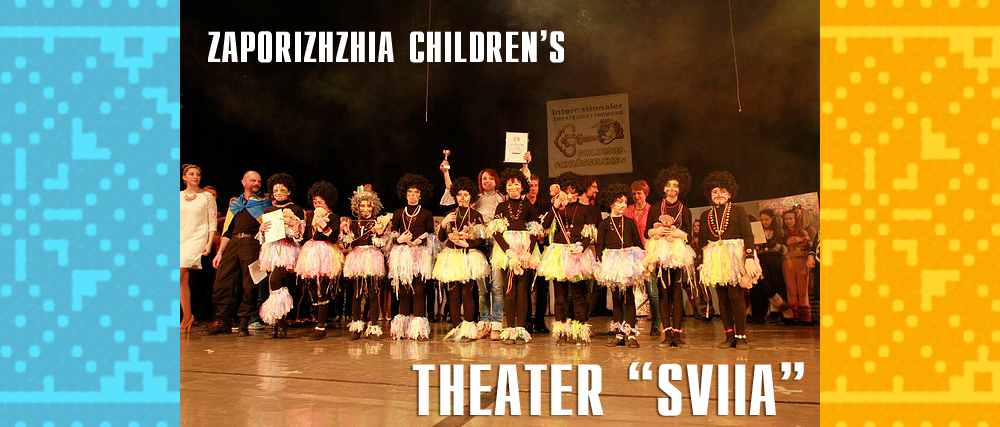 Zaporizhzhia children's theater "Sviia" began its activity as a Svitlana Yemets author project "Children's theatre studio "Sviia". Today the theater exists in two areas: as the theater "Sviia" being located at Kozacha Street, 7а, Zaporizhzhia and as an educational studio "Sviia" at Sobornyi Avenue, 158, Zaporizhzhia.
Since 2015 the theater has received high awards and honors of All-Ukrainian multi-genre and theater contests and festivals, including "Perevtilennia" (Kyiv), "Shliakh do uspikhu" (Irpin), Theatre Day Fest (Kyiv), Chernihiv Open Festival of Amateur Theatre Art (Chernihiv), "Bereznevi skhodynky" (Rivne), "Yuni zirky Melpomeny" (Berehovo), "Varto" (Dnipro) etc.
In summer 2015 Zaporizhzhia children's theater "Sviia" had an invitation of the Ukrainian-French Cultural Association "ART culture et créativité" at the Embassy of Ukraine in France and acted for Ukrainian diaspora in Paris.
In 2015 and 2017, the theater won the Open Berlin Contest for Children and Youth Theater "Goldenes Schlüsselchen", Berlin, Germany. In 2016-2017 "Sviia" participated in the International Theater Festival, Beelesko-Biala, Poland (XI Edycja Międzynarodowych Jesiennych Spotkań Artystycznych "Talizman Sukcesu" w Bielsku-Białej, Poland), received a special award from the jury at the theatre festival "Asteriada" (Warsaw, Poland), and received the grand prizes participating in the Open Amateur theatrical contest "Kurtyna" (Ryjewo, Gdansk) two years successively (2016, 2017).
Since foundation the theater has staged about 20 performances in different genres and performing complexity: performances by folk and author tales "Aladdin" by Yaroslav Stelmakh, "Zhyly – buly…" ("Once upon a time, there were") by M. Barteniev, A. Usachov, "Popeliushka" ("Cinderella") by Yevhenii Shvarts, "Kresalo" ("Flint") by S. Horkovenko, "Khto pryntsesu potsiluie" ("Who will kiss the princess?") by Yulii Kim, "Yak hnomy vesnu shukaly" ("How dwarves were looking for spring") by Oleh Mykhailov etc., performances of educational affiliation such as "Yakos u Morskomu" ("Somehow in Morske") by Liudmyla Tymoshenko, "Tprus, abo Istorii kota Filofeia" ("Scat, or the stories of the cat Filofeia") by Valerii Zymin, "Strashnyi Zaiets" ("Terrible hare") by N. Krymova, "Sonechko riatuie svit" ("The sun saves the world") by Nataliia Uvarova; and also some stages presenting specifics of contemporary world, such as "Shkola Stiuardes" ("School of stewardesses") by Volodymyr Paltis, "Parentektomiia" ("Parenterectomy") by Nataliia Borenko.
Actors aged five to sixteen play in Zaporizhzhia children's theater "Sviia".
The theater is fully self-sustaining.
Yemets Svitlana Oleksandrivna is an artistic manager and stage director.
tel.066 – 104 – 31 – 64
tel.097 – 276 – 60 – 48
website: swija.com.ua
e-mail: Этот адрес электронной почты защищён от спам-ботов. У вас должен быть включен JavaScript для просмотра.